Getting Started
The AccuRev Web Interface (Web UI) provides a convenient way to view information from the AccuRev repository. Using the Web UI, you can access AccuRev and AccuWork data.
Note: The Web UI only interacts with data from the AccuRev Server. Data from user workspaces which has not been kept or promoted will not be visible from the Web UI.
Accessing the Web UI
To access the Web UI, use your Web browser to navigate to its location (usually http://<servername>:<port>/accurev). You will need to obtain the specific URL from your system administrator. The Web UI requires reasonably recent versions of common web browsers. Refer to the AccuRev Installation and Release Notes for the current list of recommended, supported browsers.
Note: Once you have logged in to the Web UI, do not use the browser's controls to navigate elsewhere or reload the page. These actions will cause your session (see Login and Logout below) to lose context and history, and you will need to reconstruct your actions.
You can switch to other application windows, or open or close other browser tabs and windows, without affecting the status of the Web UI.
Back to top
Logging In
When you first visit the Web UI, the Login to AccuRev Server dialog box appears.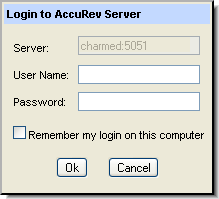 To log in, enter your AccuRev user name and password and click Ok.
If you would like your browser to store a session ID for this login session, select the Remember my login on this computer checkbox.
Note: If you need to access a different server than the one shown on the login dialog, contact your Web UI system administrator for assistance.
Back to top
Troubleshooting
Troubleshooting tips for issues relating to installing or upgrading the Web UI are described in the AccuRevWeb Interface Administrator's Guide.
Back to top