What's new in
Digital Lab

(

UFT Mobile

)2021 R1

The new features and enhancements included in Digital Lab version 2021 R1 are described below.

Note: The Help Centers for Digital Lab 2021 and Digital Lab 2021 R1 versions are streamlined into a single Help Center. Any version specific changes are indicated where relevant.

To view features and enhancements for Digital Lab 2021, see What's new in Digital Lab (UFT Mobile) 2021.

What's new video
Watch the What's New video to learn about the new features included in Digital Lab 2021 R1.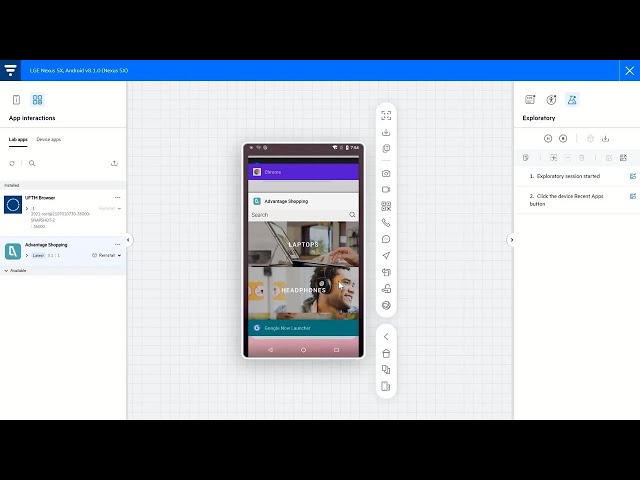 Back to top
Revamped device window
UFTM now includes a revamped device access window when you open a lab device remotely. This provides a better user experience and improved functionality for interacting with a device.
Interact with the device using the actions in the toolbar next to the device, and the options in the panels on the left and right-hand side of the device access window. You can collapse the panels, change the order of the tabs at the top of the panels, and drag and drop tabs from one panel to another. Exploratory testing is now included in the side panel, and you start and stop recording of sessions using the options in the exploratory testing panel. For details, see Device access window.
Back to top
Accessibility testing
A new accessibility inspector in the device access window enables you to verify that VoiceOver and TalkBack users can conveniently use your app. The TalkBack/VoiceOver descriptions for each accessibility element are displayed as text, together with the available attributes for the element. For details, see Manual Testing.
Back to top
Embedded iOS packaging service (Tech preview)
The UFT Mobile server now has a built-in iOS packaging service and signing assets are managed from the UFT Mobile console. You can configure the embedded packaging service and manage signing assets in Administration settings > iOS Packaging service. For details, see iOS signing service.
Back to top
HarmonyOS support
Connect HarmonyOS 2 devices to UFT Mobile and test your Android apps on them. For details, see Configuring and connecting devices.
Back to top
Appium 1.22
The embedded Appium version was updated to 1.22.
Back to top
General improvements
Digital Lab 2021 R1 includes the following updates and enhancements:
| | |
| --- | --- |
| Digital Lab Linux server and connectors | This release includes support for CentOS and RHEL 7.9 and 8.4 |
| macOS | Signing and connector machines support macOS Big Sur (11.6) and Monterey (12.0.1). |
For more details, see the Support matrix.
Back to top
See also: