What's new in
Mobile Center

3.1

Mobile Center 3.1 includes a number of new features, enhancements, and fixes. To try Mobile Center, download a trial version.
What's new video
Watch the What's New video: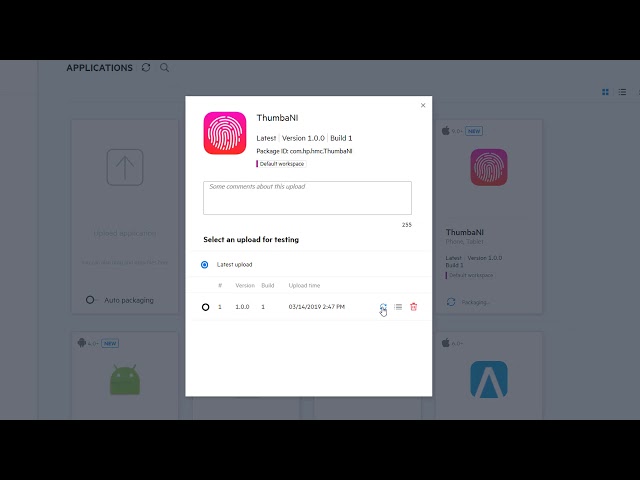 Back to top
Dev Access
We've expanded our Mobile Center lab capabilities to provide Dev Testers and Developers direct access to the mobile lab, from within their Integrated Development Environment (IDE). Developers can now quickly and efficiently debug code or check a bug fix on a wide range of real devices, directly from their IDEs, without having to connect physical devices to their workstation, or to use additional tools. For details, see Dev Access.
Back to top
Packaging service scalability
Mobile Center supports testing both packaged and non-packaged native and hybrid apps. This gives you the option of selecting either a packaged app or the original version, when running a test.
You can now choose to enable or disable automatic packaging when uploading apps. By default, Auto packaging is set to ON. When you upload an app to the Lab, both a packaged and non-packaged version of the app are saved. If you disable auto-packaging, you can also initiate ad-hoc packaging for a specific upload by clicking on the Add packaged version icon
in the app details. For more details, see Manage apps, and App packaging and signing services.
Back to top
iOS remote view responsiveness
In this release we've focused on improving iOS remote view responsiveness, enabling you to interact with the remote device faster than ever, extending your testing capabilities.
Back to top
Improved deployment of connectors
We've improved the deployment of connectors by adding a new lab-management capability, allowing administrators to control Mobile Center connector installations through token-based authentication. These credentials are now used when installing connectors, instead of the Mobile Center user name (email) and password.
For details, see Access key management.
Back to top
Simple upgrade flow
Up until now, we've only supported an upgrade from one version earlier than the version being installed. We've recognized that not being able to skip versions when upgrading is a pain point for customers who have an old version of Mobile Center installed. With Mobile Center 3.1 you can now upgrade your Windows or Linux MC server to the latest version of Mobile Center, regardless of which version you are currently using. This functionality is only supported on upgrades to Mobile Center 3.1 from MC version 2.50 and later.
Back to top
Appium
We're rolling out a newer version of Appium embedded in Mobile Center. Mobile Center 3.1 supports Appium 1.10.0.
Back to top
Supported integrations
Support for the latest releases of Micro Focus testing tools:
UFT 14.52
LeanFT 14.52
LoadRunner/ TruClient 12.62
Silk 19.5
For What's New in mobile functional testing, see the UFT and LeanFT help centers.
Back to top
See also: