Transaction Response Time (Distribution) graph
This graph displays the distribution of the time taken to perform transactions in a load test scenario.
| | |
| --- | --- |
| Purpose | If you have defined acceptable minimum and maximum transaction performance times, you can use this graph to determine whether the performance of the server is within the acceptable range. |
| X-axis | Transaction response time (rounded down to the nearest second). |
| Y-axis | Number of transactions executed during the scenario. |
| Tips | Compare with Transaction Performance Summary Graph to see how the average performance was calculated. |
| Note | This graph can only be displayed as a bar graph. |
| See also | |
Example
In the following example, most of the transactions had a response time of less than 20 seconds.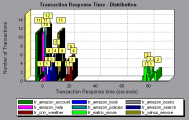 Back to top