Transaction Response Time (Percentile) graph
This graph analyzes the percentage of transactions that were performed within a given time range.
Purpose

Helps you determine the percentage of transactions that met the performance criteria defined for your system. In many instances, you need to determine the percent of transactions with an acceptable response time. The maximum response time may be exceptionally long, but if most transactions have acceptable response times, the overall system is suitable for your needs.

X-axis

Percentage of the total number of transactions measured during the load test scenario run.

Y-axis

Maximum transaction response time (in seconds).

Note: Analysis approximates the transaction response time for each available percentage of transactions. The y-axis values, therefore, may not be exact.

Tips

Compare with the Average Response Time Graph.

A high response time for several transactions may raise the overall average. However, if the transactions with a high response time occurred less than five percent of the time, that factor may be insignificant.

See also
Example
In the following example, fewer than 20 percent of the tr_matrix_movie transactions had a response time less than 70 seconds.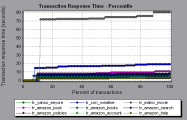 Back to top