Transaction Response Time by Location graph
This graph shows the average transaction response time for each of the virtual locations with which the transactions were performed.
This graph is used in conjunction with Network Virtualization. Using Network Virtualization, you set up a scenario that runs Vusers on several virtual locations. This graph lets you compare the transaction response times for the various virtual locations. For details, see Network Virtualization.
Purpose

Helps you view the general impact of Vuser load on performance time for each virtual location.

The bars in the graph are color-coded by virtual location – the same color is displayed for all transactions that use the same virtual location.

X-axis

Transactions performed with a specific virtual location.

Y-axis

Average response time (in seconds) for each transaction, per virtual location.

See also
Example
The following example shows the average transaction response times for three virtual locations. Action_Transaction took 8.025 seconds to perform (on average) when using the China to US EC virtual location, the longest time for any of the three virtual locations.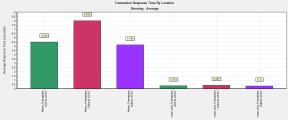 Back to top