Uploaded Component Size graph
This graph displays the number of kilobytes that were sent for each web page component that was uploaded.
Note

The web page size is a sum of the sizes of each of its components.

The Uploaded Component Size graph can be viewed only as a pie graph.

See also
Example 1
In the following example, each of the components that was uploaded contained approximately 9% of the total size of all the of the uploaded components.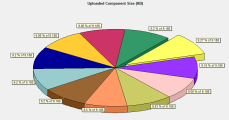 Example 2
In the following example, the size of the uploaded item that is shown in green is the biggest of all the components that were uploaded. To reduce upload time, it may help to reduce the size of this component.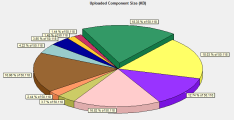 Back to top