AppDynamics graph
Note: Available for LoadRunner Enterprise only.
The AppDynamics graph displays metrics about the availability and performance of software applications and the impact on user experience measured by the AppDynamics Platform, an application performance monitoring tool.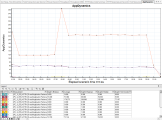 For details about the AppDynamics monitor, see the LoadRunner Enterprise Help Center.
For more information about AppDynamics, see the AppDynamics documentation.