What's New - LoadRunner Cloud 2019.12
The following features were introduced or enhanced in LoadRunner Cloud version 2019.12.
What's New video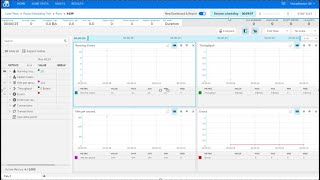 Back to top
Introducing the LoadRunner family
The Micro Focus LoadRunner family provides an industry leading, comprehensive portfolio for continuous load, stress, and performance testing. Based on smart analytics and real-time insights, using real-world simulations, and integrating with open source and third-party tools, LoadRunner solutions deliver the application efficiency, endurance, and stability required to achieve quality and speed on an enterprise scale.
From this release, LoadRunner Cloud is the new product name for StormRunner Load. The name change does not impact support or pricing of the product. In addition to seeing the new name in the marketing assets and the product UI, you will also see the name change reflected in the documentation and different systems such as the ADM support site, our main microfocus.com website, ADM community pages, and in social media posts.
LoadRunner Cloud: Provides a scalable cloud-based mobile app, and website load-testing resources.

LoadRunner Professional (formerly LoadRunner): Provides an on-premises solution for application performance and load testing that identifies the most likely cause of performance issues.

For details, see LoadRunner Professional Help Center.

LoadRunner Enterprise (formerly Performance Center): Provides increased efficiency and reduced cost through collaborative performance load testing.

For details, see LoadRunner Enterprise Help Center.
Back to top
New analysis module enhancements
The following enhancements have been added to the new analysis module (beta):
Network breakdown.

Transaction response time breakdown metrics are now available in the dashboard.

Display script errors in the dashboard.

The number of script errors in a run is now displayed in the dashboard. You can view the list of errors, add them as a table in the dashboard, and copy an error message to your clipboard.

Response time trend comparison to a benchmark run.

In addition to the report comparing transaction response time percentile trend to a previous run, it now also compares it to a test's benchmark run, if one is set.
For more details, see Dashboard and Report.
Back to top
Pause scheduling during a load test run
You can now pause a load test's scheduling during a run so that you can better control the test's load while it is running.
For more details, see Pause scheduling during a test run.
Back to top
Goal oriented mode enhancements
The following enhancements have been made to the goal oriented run mode:
For the transactions per second goal type, set the number of transactions per second that are added and at what time interval.

Display the run mode used in the new analysis module's report and dashboard.
For more details, see Configure a goal for a load test.
Back to top
Automatic syncs of GIT scripts
When a script from a GIT repository is uploaded to LoadRunner Cloud, you can flag it so that when a change to the script is detected in the GIT repository, an automatic sync is made to keep the script up to date in LoadRunner Cloud.
For more details, see Scripts.
Back to top
New public API operations
New operations have been added to the LoadRunner Cloud API that enable you to:
Synchronize GIT scripts

Allow users to enable and disable scripts in load test

Create new load generators and assign scripts to them

View and edit test settings such as license mode, run mode, log collection, goal oriented settings, and more.

Enable pause scheduling for a load test and pause or resume a schedule during a run.
For more details, see Public API.
Back to top
Support for DevWeb scripts
TruWeb has been renamed as DevWeb. LoadRunner Cloud supports both new DevWeb scripts as well as older TruWeb scripts.
For details on supported protocols, see Support Matrix.
Back to top
Enhanced Azure DevOps integration
When using the Azure DevOps integration, upon completion of a task you can view a new artifact that is published on the Summary tab and a brief report on the LoadRunner Cloud tab.
For more details, see Use the Azure DevOps plugin.
Back to top
New load generator alert
A new load generator alert type has been added for scripts that cause the load generator's used disk space to reach 95% or higher.
For more details on load generator alerts, see Alert bar.
Back to top
Access Idea Exchange
A link has been added in the UI to the LoadRunner Cloud Idea Exchange. This provides easy access to an area where you can suggest new ideas, vote for existing ideas, and request enhancements to LoadRunner Cloud.
Back to top
UI language support
Language support for the LoadRunner Cloud user interface is in English only.
Back to top
Archive old test results
By default, results that are older than 18 months are now automatically archived. You can open a support ticket to request retrieval of archived results.
For details, see Find out the status of my test run.
Back to top
See also: