What's New - LoadRunner Cloud 2020.02
The following features were introduced or enhanced in LoadRunner Cloud version 2020.02.
What's New video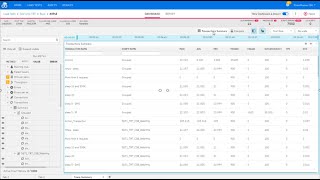 Back to top
New analysis module enhancements
We are happy to announce that the new dashboard and report are now the primary and default dashboard and report. The previous dashboard and report can still be accessed using a toggle switch to change the display.
In addition, the following enhancements have been added to the new dashboard:
Transaction Summary table.

The new Transaction Summary table in the dashboard is a summarized view of transaction data in table mode, available both during and after a test run.

Persistency of dashboard configurations between runs.

Dashboard layout configurations are now maintained between runs of the same load test.
For more details, see Report and Dashboard.
Back to top
Additional runtime settings
Runtime settings for load tests now include error handling and automatic transactions.
For more details, see Scripts.
Back to top
Iterations run mode enhancements
The following enhancements have been made to the iterations run mode:
When running tests configured for the iterations mode, the Pause Scheduling feature can now be used.

Non-VuGen scripts are now supported in the iterations mode.
For more details, see Run mode.
Back to top
New public API operations
New operations have been added to the LoadRunner Cloud API that enable you to:
Configure manual and advanced ramp up and tear down settings

Get all pending schedules in a project
For more details, see Public API.
Back to top
Project management enablement
Activate the Project Management feature in your tenant simply by opening a ticket. This enables you to manage resources both within and between projects.
For more details, see Project Management.
Back to top
See also: