Introducing
LoadRunner Cloud
LoadRunner Cloud is cloud-based load-testing service that supports web and mobile protocols. LoadRunner Cloud provides you with the tools to create and scale load tests and generate metrics to analyze your application's system performance.
Getting started
New to LoadRunner Cloud? Watch the Getting Started tutorial video.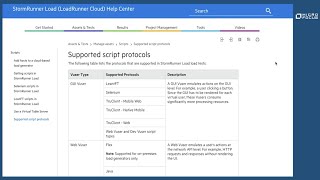 Back to top
LoadRunner Cloud end-to-end workflow
This section describes the end-to-end workflow to run a load test with LoadRunner Cloud.
Back to top
LoadRunner Cloud

Home page

The LoadRunner Cloud Home page provides quick access to your tests and useful tools. The Home page contains the following sections:
Quick start: Allows you create a test. For details, see Quick load test.
Latest runs: A list of the latest runs and their status. To learn more about a specific run, click its run ID to open the Dashboard. You can choose to view runs from the last hour, day, or week.
Recently worked on: A list of the load tests that you recently modified. Click on a test to open its settings.
What's New: A list of the features and enhancements added to the current version of

LoadRunner Cloud

. For details, see What's New - LoadRunner Cloud 2021.04.

Get Tools: Links to tools that are used in conjunction with LoadRunner Cloud. This section has several tabs:

Scripting: Common scripting tools, such as Micro Focus VuGen, TruClient, and DevWeb, as well as external tools such as JMeter and Gatling.
CI/CD: Plugins or CLIs for common CI/CD tools such as Jenkins, Azure DevOps, Bamboo, Node JS CLI, and Java CLI. Use these tools to trigger tests from within your code or CI/CD cycle.
Agents: Agents used in conjunction with

LoadRunner Cloud

such as the on-premises load generator OneLG (and its patches), OneLG Docker images, monitors such as SiteScope and Dynatrace, and a Git agent. For details, see LoadRunner Cloud agents.

Tutorials: A link to the LoadRunner Cloud video gallery with instructional videos.
Get Help: Links to the online help, Public APIs, the

LoadRunner Cloud

forum and

LoadRunner Cloud

group.
Back to top
Learn about LoadRunner Cloud features
In addition to the LoadRunner Cloud Help Center and videos, you can learn about various new and existing features by viewing animated GIFs from within LoadRunner Cloud.
To view these animated GIFs, from the main LoadRunner Cloud toolbar click the Home page's Learn tab and select What's New or Features.
A red icon next to Learn in the toolbar indicates that new animated GIFs have been added.
Back to top
Additional LoadRunner Cloud features
LoadRunner Cloud includes several hidden options that are disabled by default. These options provide additional capabilities and give you more control over your tests. To enable these options, the tenant administrator can submit a service request.
The following table lists the features that can be enabled through a service request:
Back to top
Bookmarking the Help Center
To ensure that you're always viewing the most up-to-date version of the Help Center, bookmark this link: https://admhelp.microfocus.com/srl
To create a link that will always point to the most recent version of a topic, replace the version number in the URL with 'latest'. For example:
Previous version:

https://admhelp.microfocus.com/srl/en/2020.10/Content/Resources/_TopNav/_TopNav_Home.htm

Current version:

https://admhelp.microfocus.com/lrc/en/latest/Content/Resources/_TopNav/_TopNav_Home.htm
Back to top
See also: