What's New in
LoadRunner Enterprise
This topic introduces the new features and improvements in LoadRunner Enterprise 2021 R1.
Note: The Help Centers for LoadRunner Enterprise 2021 and 2021 R1 versions are streamlined into a single Help Center. Any version specific changes are indicated where relevant.
To view enhancements for the 2021 version, see What's new in LoadRunner Enterprise 2021.
What's New video
Learn about some of the new features included in LoadRunner Enterprise version 2021 R1: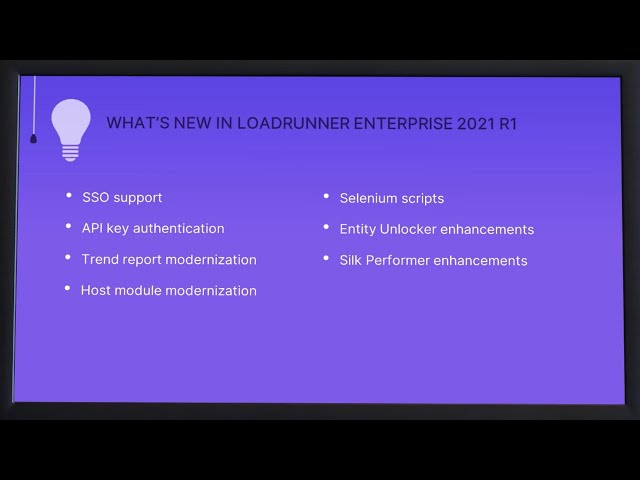 Back to top
SSO support enhancements
You can now use SSO to authenticate VuGen, Analysis, and Entity Unlocker to LoadRunner Enterprise when SSO authentication is enabled on the LoadRunner Enterprise server. This gives you a secure connection to LoadRunner Enterprise using a single set of credentials.
For details, see Integrate with other Micro Focus products.
Back to top
API key authentication
You can now use API access keys to provide a secure authentication mechanism for external applications accessing LoadRunner Enterprise's API. Applications that need authentication include:
LoadRunner Enterprise's CI and Application Automation Tool plugins: Git, Bamboo, TeamCity, Jenkins, and Azure DevOps.

Other third party applications and APIs that need to integrate with LoadRunner Enterprise, such as those that are located behind a firewall.
For details, see Set up API access.
Back to top
Trend report modernization
The trend report feature was simplified and given a modern look and feel.
You can use the new interface to more easily create reports, manage test runs trended in reports, and add trend views and customized categories to reports.
For details, see Define a trend report.
Back to top
Hosts module modernization
The Hosts module interface is now updated using the latest technologies. This is part of ongoing modernization to LoadRunner Enterprise. For details, see Manage hosts.
Back to top
Selenium scripts
Selenium scripts are now supported in LoadRunner Enterprise performance tests.
For details, see Selenium tests.
Note: This feature is currently available as tech preview.
Back to top
Entity Unlocker improvements
Administrators now have more options with the Entity Unlocker application.
They can unlock entities locked by any user on a specific domain and project.

They can manage the frequency and timeout settings of the automatic unlocking task from System Health.
In addition, the Entity Unlocker is now supported when LoadRunner Enterprise is configured with SSO authentication. For details, see SSO authentication.
Back to top
DevWeb script enhancements
You can now use auto-complete to select functions when editing a DevWeb script within LoadRunner Enterprise.
For details, see DevWeb tests.
Back to top
Silk Performer integration enhancements
You can now define log runtime settings for Silk Performer scripts within LoadRunner Enterprise.
For details, see Silk Performer tests.
Back to top
System health enhancements
When running the check host maintenance task, you now have the ability to exclude specific hosts.
For details, see Schedule automated maintenance tasks.
Back to top
Help Center Share button
The Help Center toolbar now include a new Share page button
:
You can share help topics on Facebook, Twitter, LinkedIn, or by email.

You can also copy the topic link to the clipboard and paste it in other applications.
Back to top
See also: