Migrate
LoadRunner Enterprise

to SaaS

This section provides you with important information on how to migrate LoadRunner Enterprise or ALM/PC (Performance Center) from on-premises to SaaS. It's relevant only when you are planning to run LoadRunner Enterprise in a SaaS environment.
Migration plan overview
The following table provides an overview of an OpenText SaaS migration plan. Individual tasks specific to the migration are based on customer readiness. The final project plan should be agreed to between OpenText SaaS and the customer following project kickoff.
Phase
Customer

OpenText

Action Items

Set up new LoadRunner Enterprise<![CDATA[ ]]>

<![CDATA[ ]]>(1-2 weeks)

Provide environment information and database

Inventory information on number of projects, size, and integrations

Determine sample projects for dry run

Create, validate, and deploy MSI bundle

Kick off

Review SOW

Provision new environment

Provide guidance on data extract and format

Provide query for reports

Provide ftp account

Project Plan

Upload data<![CDATA[ ]]>

<![CDATA[ ]]>(1-2 weeks)

Extract and zip data

Upload and ship drive

'Iterative step'

Set up remote network drive

Create, validate, and deploy MSI bundle

Download, extract, and copy data

Validate data format

Upgrade sample projects<![CDATA[ ]]>

(1-3 weeks)

 

Restore and upgrade sample projects

Smart repository optimizations

Convert from other databases to Oracle

Sanity checks and release

Dry-Run validation<![CDATA[ ]]>

(3-8 weeks)

Validate migrated and upgraded projects

Perform out-of-the-box break fix, guidance, and document

Verify project

Start and finalize plans for migrations batches and dates

Critical step to ensure successful and uneventful migration

Provide support

Out-of-the-box break fix

Start and finalize plans for migration batches and dates

Upgrade product

<![CDATA[ ]]>(2-4 weeks)

Ensure no checked out entities before extract

Extract data (plan accordingly)

Zip up and upload

Perform post migration validation and fixes

Link and push template

Sign off

Weekday migrations

Iterative pending on number of batches

Perform technical batch migrations and upgrade

Perform necessary fixes

Post upgrade support

Weekday migration

Iterative pending on number of batches

Back to top
LoadRunner Enterprise

environment diagram

This diagram illustrates the SaaS LoadRunner Enterprise environment and interaction between the LoadRunner Enterprise and customer AUT environments.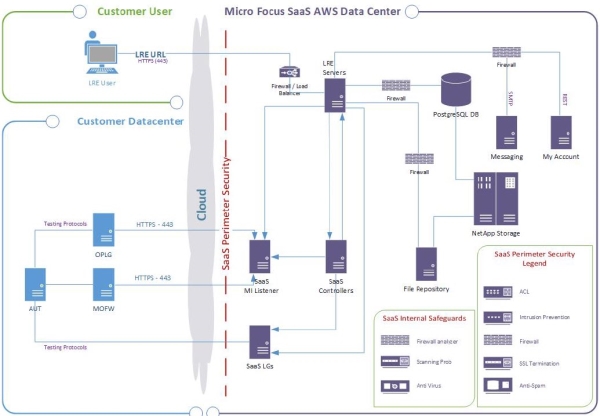 Back to top
Migration tasks
For details about migrating LoadRunner Enterprise or ALM/PC from on-premises to SaaS, see the following instructions:

Back to top