Overview of
Program Management
Program Management gives program managers a single location from which to initiate, operate, and manage a portfolio of programs and projects. An enterprise can use it to organize and guide the delivery of a business capability through multiple projects and releases, while maintaining alignment with the overall corporate vision.
In Project and Portfolio Management Center (PPM), a program is a collection of proposals, projects, and assets linked by common business objectives, and associated scope changes, risks, and issues. For example, XYZ Corporation creates a program to upgrade its customer service computer system to better meet the needs of its sales force. The Customer Service, Sales, and IT organizations create their own projects for this program. Changes and proposed changes at both the program and project level are tracked together.
Program Management users can drill down into projects and requests for detailed information. Users can view roll-ups of relevant data from projects and requests.
Program managers can:
Oversee the milestones and deliverables of all IT projects

Identify and mitigate risk

Manage scope changes

Resolve inter-project issues
Like projects, programs have associated health conditions and configurable exception indicators. However, while a project represents a body of work with a distinct start and finish, programs are often open-ended, and involve initial implementation as well as ongoing maintenance, upgrade, and realignment with changing organization business objectives.
Program-Related Request Types
During the life of a program, problems and concerns arise that must be addressed. PPM provides a framework that your organization can use to identify and, ultimately, resolve problems through submitted requests. The requests that users submit are tracked, rejected, completed, and reported.
Program Management includes the following request types, all of which affect programs:
To use a given request type in Program Management, that request type must include a Program Management field group. A field group is a set of preconfigured fields delivered with PPM products. You can use these field groups to implement a solution quickly or to enable certain functions to act in concert in PPM.
For example, the Program Issue field group allows requests to be treated as issues in a program and activates consistent information tracking for these issues. This field group is associated with a request type (through the request header type) to enable basic Demand Management features such as request scheduling and analysis.
Figure 1-1. Field Groups window shows the Field Groups window, which you use to select the Program Management field groups to associate them with a request header type. Configuring Program Management Request Types and Workflows provides details on how to select the field groups.
Figure 1-1. Field Groups window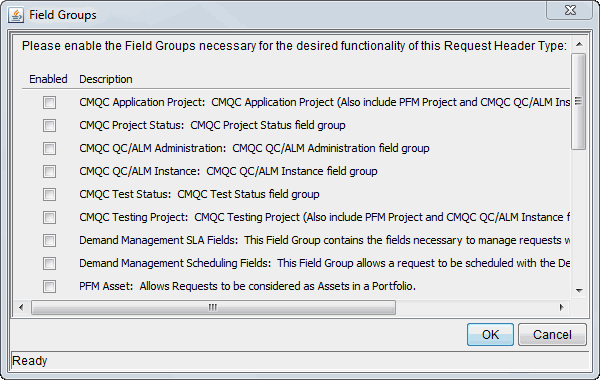 Each Program Management request type must be linked to its corresponding field group and to a specific Program Management workflow. Likewise, each Program Management workflow must be linked to a specific Program Management request type.
Table 1-1. Program Management field groups

| Field Group | Description |
| --- | --- |
| PFM Program | Required for any request type that will represent a program lifecycle (regardless of whether the program will be considered in the portfolio). |
| Program Issue | Allows requests to be considered as issues in a program. |
| Program Reference | Contains a field that allows a user to add a program reference to a request. |
| Program Risk | Allows requests to be considered as risks in a program. |