Comparing Skills
The Resource Finder allows you to view a table comparing the skills of selected resources, including each resource's skill level.
Figure 5-11. Resource Finder Compare Resource Skills page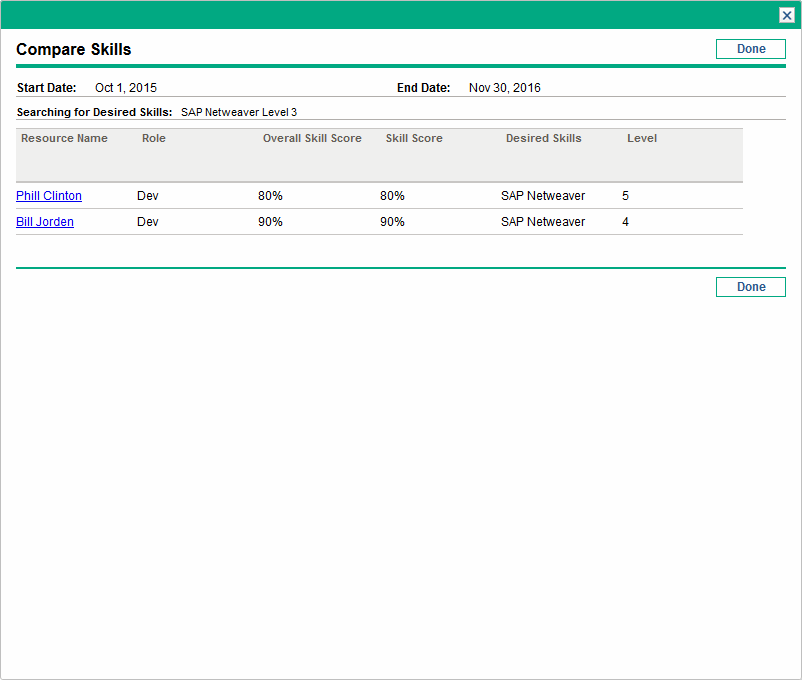 To access this table:
Click Compare Skills in the Resource Finder window. The Compare Resource Skills page opens.

| Column | Description |
| --- | --- |
| Resource Name | The name of the resource. |
| Role | User responsibility that helps describe resource requirements. |
| Overall Skill Score | The average of all skill scores of a resource. |
| Skill Score | A numeric score representing the resource's suitability relative to the skill required. A higher score (close or equal to 100) means better suitability. See Calculate skill score for more detailed information on how this score is computed. |
| Desired Skills | Skills selected in the Resource Finder that you would like the resource to possess. |
| Level | The proficiency level of the resource for the specified skill. |

Click Done to return to the Resource Finder.