Introducing
LoadRunner Cloud
LoadRunner Cloud provides you with the tools to create load tests and generate the metrics to analyze your application's system performance.
Getting started
New to LoadRunner Cloud? Watch the Getting Started tutorial video.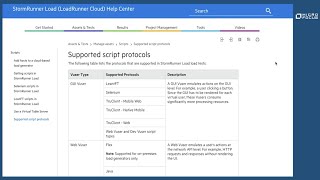 Back to top
LoadRunner Cloud end-to-end workflow
This section describes the end-to-end workflow to run a load test with LoadRunner Cloud.
Back to top
Learn about LoadRunner Cloud features
In addition to the LoadRunner Cloud Help Center and videos, you can learn about various new and existing features by viewing animated GIFs from within LoadRunner Cloud.
To view these animated GIFs, from the main LoadRunner Cloud toolbar select Learn and then select the relevant tab—What's New or Features.
A red icon next to Learn in the toolbar indicates that new animated GIFs have been added.
Back to top
Bookmarking the Help Center
To ensure that you're always viewing the most up-to-date version of the Help Center, bookmark this link: https://admhelp.microfocus.com/srl
To create a link that will always point to the most recent version of a topic, replace the version number in the URL with 'latest'. For example:
Previous version:

https://admhelp.microfocus.com/srl/en/2020.07/Content/Resources/_TopNav/_TopNav_Home.htm

Current version:

https://admhelp.microfocus.com/srl/en/latest/Content/Resources/_TopNav/_TopNav_Home.htm
See also: