TruClient standalone
This section describes how to install and open TruClient standalone. TruClient standalone enables you to create scripts independent of a VuGen installation.
Note:  
TruClient Standalone will be deprecated in 2023. We recommend using TruClient in VuGen instead.

TruClient standalone cannot be installed on a machine with other

LoadRunner Professional

components, apart from the Analysis component.
System requirements
The following table describes the system requirements for installing TruClient standalone.
Requirement
Value

Processor

Dual-Core 2.2 GHZ or faster

Operating system

Windows 8.1 64-bit

Windows 11 64-bit

Windows 10 64-bit (versions 1607, 1703, 1709, 1803, 1809, 1903, 1909, 2004,20H2, 21H1, 21H2)

Windows Server 2022 64-bit

Windows Server 2012 R2 64-bit

Windows Server 2016 64-bit

Windows Server 2019 64-bit (recommended)

Note: Windows 11, Windows 10 21H2, and Windows Server 2022 are supported in TruClient 2022 R1 and later versions.

Memory (RAM)

Recommended: 8 GB

Screen resolution

Minimum: 1366x768

Browser

Microsoft Internet Explorer 11

(It is recommended to keep the default IE settings)

Available hard disk space

Minimum: 50 GB

Back to top
Download the standalone installer
The table below lists the Micro Focus products that integrate with TruClient, and from which you can download the standalone installer package.
Alternatively, you can download installation packages for standalone TruClient from the ADM Marketplace.
To use with this product:
Install from:
Application Performance Management
Downloadable package
AppPulse
Download from the product

LoadRunner Professional

(formerly LoadRunner)

Downloadable package/Standalone Applications

LoadRunner Enterprise
(formerly Performance Center)

Downloadable package/Standalone Applications

LoadRunner Cloud
(formerly StormRunner Load)

Download from the product
For product details and trial downloads, see the Micro Focus Products site.

Back to top
TruClient Standalone Launcher
The TruClient Standalone Launcher is the first window that is displayed when you run the TruClient standalone edition.
Use the Launcher title bar to access the following utilities:
Change Settings.

Language. Enables you to select the interface language. Changing the language will restart TruClient.

Help Center. Enables you to access the Help Center on the web, or to download and use a locally installed version. To switch between online and local modes, select Open Online or Open Locally. If local help has not been installed, you can download and install it from Download Help Center.

Participate in TruClient improvement program. You can participate in the TruClient improvement program to help us improve the quality, reliability, and performance of TruClient. TruClient collects anonymous information about your software and hardware configuration, and about how you use TruClient.

TruClient does not collect any personally identifiable information, or any information about your company environment or the code of your scripts.

Online Help. Opens the

TruClient

Help Center.

Convert script to TruClient Web. Launches the utility to convert legacy single-browser scripts to Web. See Converting single-browser scripts to TruClient - Web.

LinkedIn. Opens the TruClient page on LinkedIn.

Back to top
Open the
TruClient

Development window from the Launcher

In the Launcher, you select the target script type and the browser you want to use.
On the first page, either select Open to open an existing script or choose the type of new script to create. The options are:
Web: A script that you record in one of the supported browsers.
Mobile Web: A script that uses mobile device emulators. See TruClient Mobile Web scripts.
Native Mobile: The TruClient - Native Mobile script enables you to record user activity in native or hybrid mobile applications using TruClient technology. The replay is performed on real devices, allowing you to gather application related measurements and test your app's performance. This type of script requires installation of

UFT Mobile

. For information on Native Mobile, see the UFT Mobile Help Center.
After you select the script type, select one of the supported browsers to use for recording.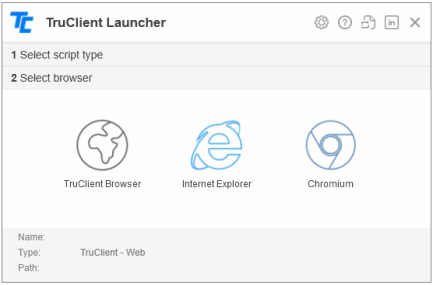 After you select the browser, the TruClient Development window opens.

Back to top

Next steps: