Image synchronization tips (RDP protocol)
Note: This topic applies to RDP Vuser scripts only.
Use the following guidelines for effective image synchronization:

Synchronize on the Smallest Significant Area
When synchronizing on an image, try to synchronize only the part of the image that is necessary. Additional details within the image may not be reproduced during replay and could result in a synchronization failure.
For example, when synchronizing on an image of a button, select only the text itself and not the dotted lines around the text as they may not appear during replay.

When synchronizing a highlighted area, try to capture only the part of the image that is not effected by the highlighting. In the following example, perform a synchronization on the Log Off icon, but not the entire button, since the highlighting may not appear during replay, and the color could vary with different color schemes.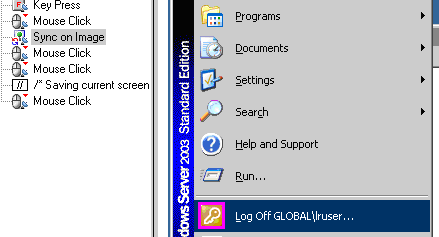 Synchronize Before Every User Action
It is recommended that you synchronize before every mouse operation. You should also synchronize before the first rdp_key or rdp_type operation that follows a mouse operation.
Back to top